It's a billion degrees here and there is no doubt Summer has truly started! The last few days have involed MANY Grand Forks type activities like eating Borscht down at the Grand Forks Hotel, sitting outside and sweating while the kids play in the water, and taking a stroll down Market Ave. I went Downtown with my Dad and since it was sooo nice we parked and walked everywhere we needed to go. My Dad is the freaking
King of Kensington
! Seriously, when he "walks down the street.." everyone pops their head out of their stores and yells "Hi Andy!", Dad waves, smiles, and then keeps on walking along.
I then got to spend the Afternoon with the McGraws.
Brian McGraw
is a man
I've known since 1990 and is something of a Hockey legend in this town. I sat and Drank Pepsi while I got all the inside scoops on all the girls that I think are good looking in GF and who still live here (Brian and his wife Jessie are the first people I go to to see if someone is worth my time or not!). I also found out that Brian and Jessie's 4 year old Kayden favourite TV shows are as follows..
Mythbusters
,
Dirty Jobs
, and
How it's Made
. Quite the line up for a little kid!
It's not been all fun and games here however as my niece Chloe came over and showed me her treasured
NeoPet
,
"doglover_985"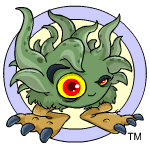 (
Neopets
are online "Pets" you take care of, feed, and love). She had created a lovley blue pet that her and her little brother Sam thought was the best! Well after they left I went on the
neopet
website to see how her
neopet
was doing and through some wrong clicks I accidently fed her
Neopet
some food and turned it into some sort of horrible monster (pictured here). If Chloe asks, I will just blame it on some sort of horrible computer virus going around.
Heading to
Kamloops
tomorrow... I'll update you there!